Artisan Scent School: online courses for self-study
"I've spent the last week at virtual perfumery school with Sarah and highly recommend her courses (don't worry, your kitchen table need not look as mad as mine and Sarah will provide you with all the materials you need). This was the first virtual course I've taken having attended a number of different in person workshops and courses (including several with Sarah) and it was both brilliant and huge fun. There is virtually no one who is actually both successfully creating and selling their own fine fragrances and teaching as Sarah does and she is a brilliant teacher, hugely generous with her knowledge and time."

From Charlie Emma, Sussex
Welcome to Scenthusiasm.
I'm Sarah McCartney, indie perfumer, and founder of 4160Tuesdays, and I set up these courses because I'm asked every day if I can help people to get started in perfumery. I can, but becoming an artisan perfumer is a challenge. If you're ready for that, read on.
I have a reputation for two things:
1) making adventurous, award winning fragrances which are sold in some of the world's most original specialist scent shops, including Lucky Scent in LA, 10 Corso Como in Milan, L'O in Florence and Select Shop 29 in Seoul.
2) telling it the way it is with and combination of enthusiasm and practicality: you'll get a sound method, useful formulas, and a helpful structure. You won't get vague promises or romantic notions.
I make perfumes the way most indie companies do, with both natural materials and synthetics: mixed media. I choose naturals when they are available, ethical and sustainable, and use aromachemicals to help bring out the best from them. Natural materials are not safer, nor are they always more expensive than aromachemicals. If you're hoping that synthetics are "cheap", you're in for a shock. If you've heard that naturals are gentle and kind, then you're in for another one.
If you want someone to tell you that you're going to make millions, really, don't do this course. Making a living as any kind of creative person is never straightforward, and this is unlikely to be your path to instant fortune and fame. Perfumery also involves math(s), so if that's not your strong point, you will need someone to help you.
You might have to unlearn some things, but if you follow the assignments in the right order, and embrace our stripped-back, uncomplicated way of balancing and blending, you will definitely come out with some decent fragrances. You will have to put the work in, because there is no instant way to get good at this.
What you won't get: a qualification, a route into an industry job, the formulas for other brand's fragrances (only 4160Tuesdays), customers forming a queue to buy your creations, or instant success.
What you will get: new insights and skills, assignments, exercises, your first steps on the route to becoming an artisan perfumer, an invitation to join our enthusiastic community, advice, formulas, films which you can watch as many times as you like, a sound method for you to use and practise to help you get better and better.
If you jump right in and follow the course, do the assignments, devote your spare time to making accords and understanding your materials, you'll make some really good fragrances.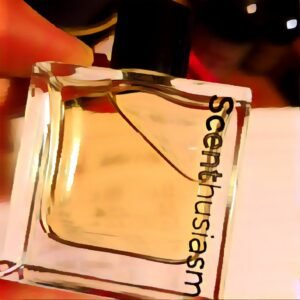 My course is for you:
If you're read so much contradictory information that your head is spinning and you've no idea where to start.
If you've been experimenting but things don't always come out the way you were hoping.
If you love fragrances and want to know how they're put together.
If you've been working just with naturals and want to know how to use synthetics too.
If you know there must be more to it than a "notes pyramid", but you're not sure how to find out.
If you want to do this for the love of it.
If you're planning to take this up as a small business or a serious interest.
If you've already bought some materials and don't want to waste them making mistakes.
Is this you? Before you commit, please watch our short videos on Instagram or the sample video below, and read our terms and conditions. You might find that my approach is not what you're looking for. If you like my style, then let's go for it.
We have a list of materials that we use in the course. You might already have some or all of them - or none at all - so we like to be flexible. Ours are already diluted in perfume grade organic ethanol, TSDA (trade specific denatured alcohol), which you need a government license to buy in the UK. If you would like to buy the kit, you can. If you already have a collection of materials, then you're welcome to use your own. There is absolutely no obligation to use ours, but we've made it easier for you to start from scratch by including ours in your course price.
You can also buy the kit at 100% strength from our friends at The Perfumers Apprentice in the US, and they can ship this worldwide. Dilute them before you start, so you'll save time when you begin your course.
You can download the list here, to check what you need before you start.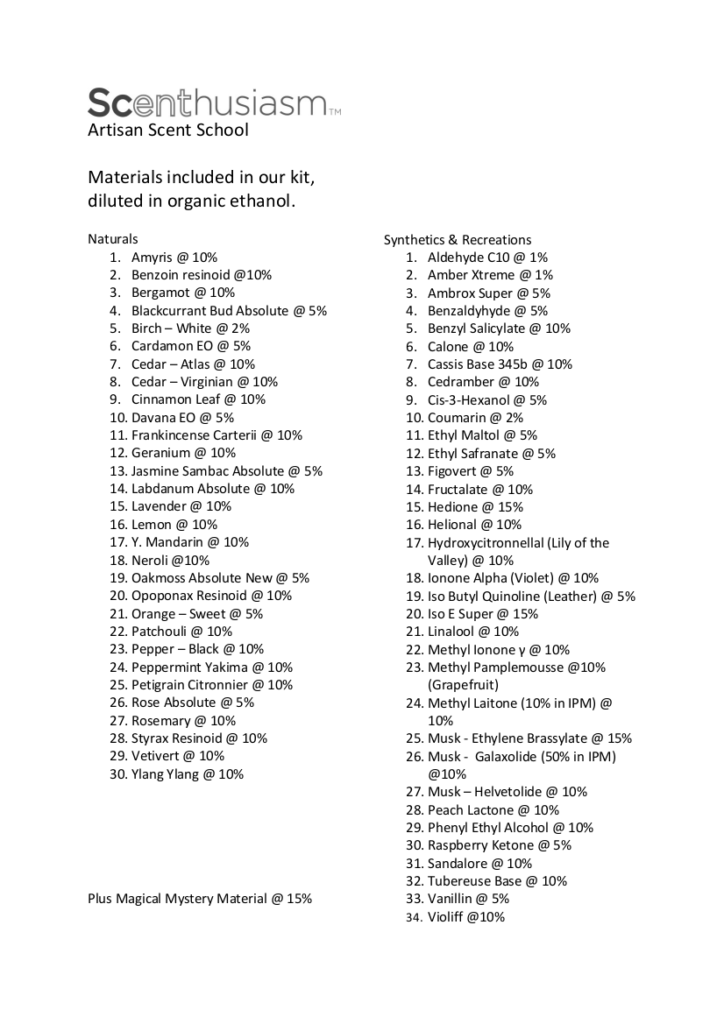 Note: In accordance with UK law on downloads and streaming, the materials list and the films on this page are free to use and watch. When you sign up, you can cancel and be refunded within 14 days as long as the perfumery materials kit is returned unopened and you have not downloaded any published course materials or watched any of our course videos. If any of the perfumery materials are damaged or faulty we will replace them.